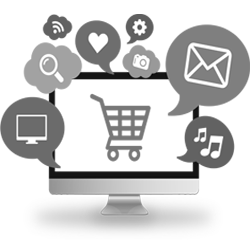 E-commerce websites are found everywhere in today's web and remain one of the top ways to enhance consumer interaction. This great feature doesn't come without problems. Despite the ease of online shopping, e-commerce cart abandonment rates hover around 95-96%. Sometimes customers simply change their minds, but more often than not customers are led around in circles by poorly-designed e-commerce websites that confuse and frustrate them.So what distinguishes a great ecommerce web design from the ones that leave the customer unwilling to buy? We're sure you've experienced a poorly-designed ecommerce website. Just when you think you're ready to buy, the cart clears spontaneously, or the checkout button doesn't work. The products lack descriptions and the prices change when you try to buy. Regardless of the industry, when you experience frustrations such as these, you immediately stop buying and find another source of product.
E-Commerce web development has indeed become a necessity instead of a means to drive greater traffic. We, at Sunrise Softech, one of the pioneered web development companies,offer efficacious and effectual eCommerce web design, plug-in & module development solutions for small and medium level enterprises. Having intense love for web designing and development, our skilled and talented professionals remain abreast with the current industry trends to deliver prolific results. With the ineffable experience, our competent developers create customized e-commerce website to promote your brand effectively while bringing success as well as online sales.
ECommerce Services That We Offer
ECOMMERCE WEBSITE DEVELOPMENT COMPANY

We are an eCommerce Website Development Company who offer custom design and development solutions.

ECOMMERCE APPLICATION DEVELOPMENT

Mobile applications for both iPhone and Android devices to supplement the eCommerce website.

CUSTOM ECOMMERCE WEB DEVELOPMENT

We can customize any of your custom need to attain the business goals that you may have.

CUSTOM OPEN SOURCE CUSTOMIZATION

Software like Magento, PrestaShop, Opencart, Zencart, Xcart, OsCommerce, any many others, can be customized.
ECOMMERCE PLUGIN & MODULE DEVELOPMENT

Extend the functionality by developing customized plug-ins and modules.

ECOMMERCE PAYMENT GATEWAY INTEGRATION

The ease payment via online transactions is what attracts many customers. Majorly First Data, Authorize.net, Paypal, Stripe, BitCoin, Etc are few majorly used ones.

RESPONSIVE ECOMMERCE WEBSITE

We will create website looks perfect in all the devices. We will optimize website helps you in search engine ranking and increase product sell.

SUPPORT & MAINTENANCE

We provide support for issues with the website and even maintain it with minor design or feature changes.